Obuka je neizostavan deo svega što radimo i od prvog dana ulažemo u tvoj lični i profesionalni razvoj. Kao naš novi kolega, učestvovaćeš u ProCredit Onboarding programu koji kombinuje teorijske i praktične module obuke. Neki će se održavati online, neki u prostorijama ProCredit banke, dok će ostali biti održani u našem trening centru na Avali, pored Beograda (u zavisnosti od trenutne epidemiološke situacije). Tamo ćeš upoznati nove ljude iz različitih zemalja, otkriti nove kulture i uživati u jedinstvenom iskustvu učenja! Radi lakše komunikacije u ovom internacionalnom okruženju, program će biti realizovan na engleskom jeziku, zbog čega je poznavanje engleskog jezika važan preduslov za učešće u programu.

Baš zbog toga, hajde da nastavimo na engleskom.
Step-by-step through the Onboarding Programme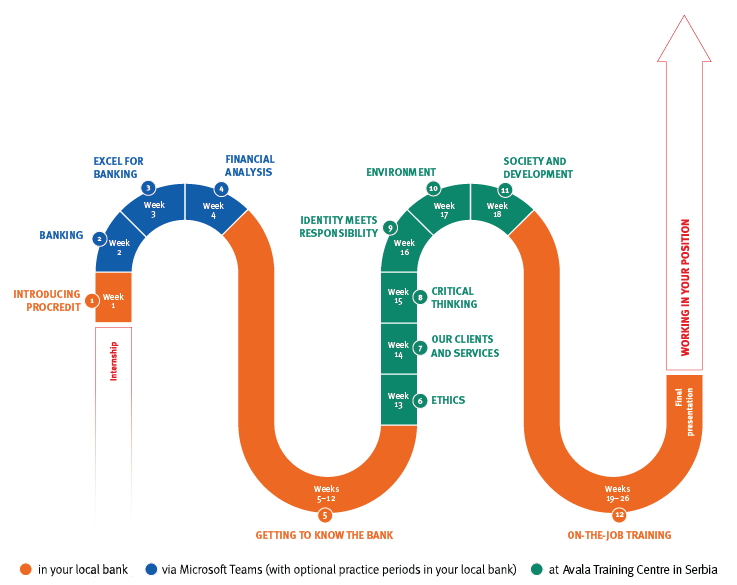 Hello and welcome!
For those of you who have not done an internship with us, this is your first interaction with the ProCredit group, a week during which you will have the chance to ask questions and discover what ProCredit is all about. It is conducted in your local bank and you can expect to receive answers to many of the questions you may have:

Who exactly is behind ProCredit? What drives the company? What is the ProCredit way of banking and what is the rationale behind it? Is ProCredit's claim of being a "responsible bank" more than just hot air?

You will get to know our core values and principles, as described in our Code of Conduct, and very importantly we will clearly explain to you who we are and who we are not.
Banks – ending the stereotypes
"You don't see yourself as a typical banker? Neither do we. That's why you're with ProCredit!"

How did money and banks emerge? What is their impact on society? How is the banking system supervised? As a ProCredit staff member, you will become a part of a rapidly changing banking system. Therefore, you will need to know how these changes influence us and where the future of banking lies.
The useful assistant
This course gives you the unique opportunity to come face-to-face with the many issues Excel poses and encourages you to overcome your fears simply by becoming acquainted with this great tool and what it has to offer. The link between Excel and banking is especially emphasised in what some call financial mathematics; however, we prefer the term Time Value of Money, and this course will help you to better understand this key concept.
How numbers tell the story of a business
The financial analysis course will familiarise you with the composition of assets, liabilities and equity, as well as income, expenses and "the bottom line", i.e. profit and loss. This course will also provide you with a basic understanding of the two core financial statements – the balance sheet (statement of financial position) and the income statement.
Getting to know the bank
5
First-hand experience!
No matter which department you will eventually join, the five-week practical training phase for all Onboarding participants starts with the same key element – getting to know the bank and understanding what it means to work with clients!
Our driving force for decision-making
During this course, you'll learn some additional things about ProCredit, but in order for us to better understand each other, we'll need to go beyond the surface and start exploring the wonderful land of ethics and philosophy. This week is philosophical, thought-provoking, and exciting. It is full of intriguing discussion topics. You will debate the moral perspectives of how (business) relationships should – and should not – be defined and how morality and justice can or cannot influence our own decision-making.
Our clients and services
7
Do we choose our clients or do they choose us?
A long-term relationship is based on mutual understanding, trust and shared values. For that reason, our business model is based on the idea of providing efficient services to specific types of clients. ProCredit banks are specialised banks for small and medium-sized enterprises, and we aim to be their "Hausbank" – the bank that handles most, or ideally all, of their banking business. We also actively address middle- and high-income private individuals who are interested in modern banking services. This might make us seem exclusive, but for a long-term relationship it is very important that we share the same understanding of growth, development, transparency, and social and environmental awareness with our clients.
Critical thinking and effective arguments
8
Sympathy for the devil's advocate
Never before has so much information been so easily available as it is today – and never before has so much of it been fake. But why are people so easily fooled by false, emotionally charged arguments? Why do we find it hard to make rational decisions? And why do we put so much faith in so-called experts? This course is designed to develop your ability to filter out false information, identify irrational opinions, and make your own arguments more convincing.
Identity meets responsibility
9
What makes one company different from another?
"It is not only for what we do that we are held responsible, but also for what we do not do." – Molière

Who am I? What makes me who I am? Who do I want to be? Do my actions reflect how I see myself? Do these questions also apply to institutions, such as ProCredit? These questions are not only vital for tapping into our identity, but also for choosing an employer.
Why does sustainability matter for ProCredit?
In the wake of the catastrophic events that have taken place in recent years – drought, flooding, forest fires, to name just a few – there is a growing realisation that exploitation of the Earth's resources at present levels is not sustainable. These events have both direct and indirect consequences for the economies in which we operate. But what can we, as individuals and as employees of a bank, do to protect the planet we live on? At ProCredit, we are convinced that there is a lot we can do. So, during this block, you will learn about our sustainable approach.
Society and development
11
To what extent are you shaped by your environment?
To what degree is your understanding of the world formed by the society in which you grew up? How important is your role as a member of society with regard to improving or even challenging the current setup? How important is your role as an individual and as part of an institution? What is the impact of institutions on society, and is your role strengthened by virtue of being part of such an institution? Does being part of an institution like ProCredit Bank make you more influential within your society? What does it mean to be part of ProCredit Bank? ProCredit describes itself as a "development bank" – but what does that really mean?
Back home!
You've been our colleague for four months now. Your training at the Avala Training Centre has just finished and it's time for you to go back home, back to your bank and back to your practical training, preparing for "real" work. Based on your contribution so far, on your potential, and on the current needs of the bank, we will agree on which position is the best fit for you. This part of your training is very much related to your specific position.
For more information please click here.